Lady Lewellyn
Llewellyn Fawr x East Harlem's Rose (Harlem Globetrotter)
2002 15.3 hand National Show Horse mare (Arabian/Saddlebred cross) by multi-National Champion stallion Llewellyn Fawr and out of a Harlem Globetrotter daughter who was herself a successful show horse. Lewellyn is very good natured and easy to ride. She is ready to show training level and schools most lateral movements. She could also be ready for the breed show division of your choice with a few months of training. She has the movement for show hack or would be an elegant hunter under saddle. She is a fun mare for a young rider who wants to hack around and "be a kid" in addition to showing, as she is "bareback safe" and brave (though very green) over fences. She does have big gaits that can be forward, so she is best for a moderately experienced rider. She is not in any way hot-- merely has more suspension and sensitivity to aids than most novice riders are comfortable with, which should be a good thing for everyone else!

Lewellyn has been champion and reserve, as well as Regional Top 5, in sport horse in hand. She has also been shown intro level by a teen girl who was attending her first horse show and has been catch ridden at an Alex Gerding clinic. She is priced at the very low price of $3,500 to make room for warmblood mares who are part of our breeding program and to ensure a great home. Lewellyn is also available for lease in Arizona. Video is available at https://www.youtube.com/watch?v=2ED_7JQ27pE

---
RL Kalandraka
Caravagio x Saltadora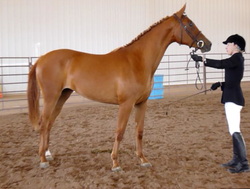 2012 Warmblood Arabian Cross Filly: Kalandraka is a talented, athletic, flashy mover who is both a fantastic upper level dressage prospect and eventing prospect. She will excel in-hand at Arabian shows in the "sport horse" division or the sport horse under saddle division of your choosing. Her sire is a son of the tremendously well-respected World Champion Gazal al Shaqab and is a half brother to Marwan al Shaqab. He was Champion Sport Horse Stallion at his first show and will have his debut at the USDF shows in the fall. Her dam scored 106 at the ISR/Oldenburg inspection and is an incredible mover with extremely correct form over fences. Both sire and dam have extremely trainable dispositions that have been passed on to Kalandraka. Basically, everyone who has seen Kalandraka so far has just said, "Wow!" She should mature around 15.3 to 16 hands and is built MUCH more like her warmblood side than Arabian side with the exception of her head, which is petite, pretty, and feminine. She has the wide base, huge and well-angled hip, huge shoulder, and short back needed to perform upper level movements. If you are looking for a filly who can compete "with the big boys" on the USDF circuit as well as clean up at the Arabian shows, Kalandraka may be for you.

---
---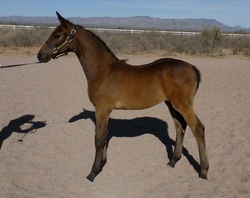 Ay Caramba is by Caravagio and out of First Premium American Warmblood (AWR) mare, Lansdowne. Caravagio's sire, Gazal al Shaqab is a world champion and producer of international champions. Caravagio's dam, My Sweet Lourdes is by international champion QR Excel-- bloodlines that are difficult to find since he now stands in Mallorca, Spain. Lansdowne is a Holsteiner/American Saddlebred cross with extremely talented movement and correct form over fences. Her sire, Landavi, was both a Grand Prix jumper and went to 4th level in dressage after his jumping career. Caramba should mature around 15.3 hands and will be a force to be reckoned with as a half Arabian in the sport horse divisions as well as USDF shows. If someone were so inclined, she should also be a very talented jumper/event horse. She has VERY substantial bone and correct feet to withstand the rigors of eventing.

---
---
SOLD: Rodellar
Rubignon x Sweet Victory RLB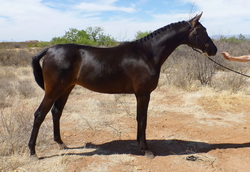 2012 Oldenburg cross filly: Rodellar is by the successful Grand Prix stallion, Rubignon who is by the legendary Rubinstein and out of a Donnerhall mare. Rubignon was shortlisted for the Swedish Olympic team and had a very successful Grand Prix career before retiring to the United States as a breeding stallion.

Her dam, Sweet Victory RLB is by international champion Arabian stallion, RSD Dark Victory, and out of a national champion producing mare who is herself by a world champion. Sweet Victory received the extremely respectable score of 102 at the 2011 ISR/Oldenburg mare inspection-- the highest score at the site for a non-warmblood mare.

Rodellar is an impressively correct and flashy filly with outstanding movement. She will make a superb upper level dressage prospect. She has excellent freedom of movement, suspension, rhythm, and a natural propensity for roundness. Her disposition is already kind and trainable. Despite coming from a prestigious dressage line, Rodellar should also be talented over fences. Rubignon received 9s for jumping at his stallion inspection and Sweet Victory has extremely correct form over fences. Rodellar will be inspected for ISR/Oldenburg registration in the fall.

---
---
---
Sold: VDS Najii
Psytanium X GAA Señorita (By Dream Quest)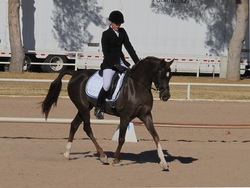 Najii is a 2005, 15.0 hand, purebred arabian gelding. He is a fun and athletic dressage horse who has competed both Training Level and First Level. He is schooling 2nd level at home and should easily keep moving up the levels. I would expect him to be ready to compete at 2nd level halfway through the 2012 show season. He has a natural sense of rhythm, great suspension, is balanced, and is very beautiful to look at. He has a solid shoulder-in, leg-yield, canter serpentines, turn on the forehand in motion, and simple changes. He has also schooled turn on the haunches, haunches in, flying changes, and some half pass. Although he is not yet solid/confirmed in those movements, it is obvious that he will have no trouble mastering them with the right training. He has nicely changeable gaits and is very responsive to aids.

In addition to dressage, Najii has had a small amount of trail riding experience, which he enjoyed VERY much, and is started over fences. His trail riding experience included walking through a river, down banks, and over logs with great bravery. He has been schooling cross country once, has been schooled over full courses of stadium fences up to 2'3", and has been schooled up to 3'3" as the final fence in a grid. He was brave cross country, including banks, water, and other various typical cross country fences, despite never having seen anything similar in his life prior to that day. In the ring, he has been schooled over flower boxes, lattice, oxers, etc, and is starting to get his lead changes. My focus with him has been dressage, but he has taken to work over fences very well for his small amount of experience. I'm certain that with a very small amount more training, he could either do horse trials or the "puddle jumper" division and move up from there.

Najii started his show career in-hand and was Top 10 in Yearling Colts at Scottsdale as well as Reserve Regional Champion Junior Stallion as a two-year-old. He was 2nd with a very high score of 88.8 at his first show in-hand in the Sport Horse division. He is fun to show in-hand and should be competitive as a sport horse as he continues to develop.


I purchased Najii as my primary dressage prospect and am now parting with him because a possible move to Europe this coming year necessitates a herd reduction. Come take advantage of the opportunity to own this smart, beautiful, plucky, athletic horse while you can!


Video is available at:
---